Retiring or moving to Monteverde, Costa Rica!
If you are interested in moving to a peaceful place with breath-taking views, low crime rate, tranquility, and much more you have come to the right place – Monteverde! Many people are initially drawn to Monteverde because of its natural beauty and wildlife. Lots of people are retiring or moving to Costa Rica, the question is, which location is best for you – beach or rain forest?
Monteverde is rated the 2nd most sought-after vacation spot and is world-famous for its pristine reserves. It is very rural and located in the gorgeous Tilaran Mountain of Costa Rica at an elevation of about 1500 m. There are approximately 7,000 people living in Monteverde. The road to Monteverde is about 35 kms from the Pan-American Highway. The main town of Santa Elena has been paved, but most of the roads are not – so that why it is very rural. Most locals here walk to their destination, own motorcycles, four-wheelers, cars, bicycles or use taxis as their main form of transportation.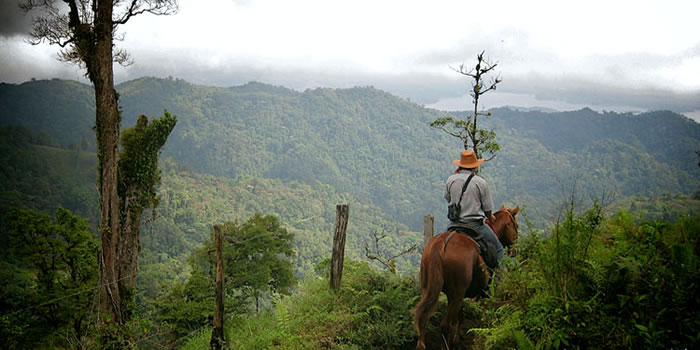 There are so much exciting things to do and see. The butterfly gardens, the hanging bridges and canopies, the zip-lines, horse-back riding tour, bungee jumping for those thrill seekers, night tours for those nighttime animals that come out, hallow tree climbing, waterfall tour, ATV riding, and hiking in the forests where you can see an abundant about of wildlife such as toucans, bell-birds, Quetzal, sloths, monkeys and much more. There are over 2,500 species of plants – 420 which are orchids, tens of thousands of insects, over 1,200 species of amphibians and reptiles, and much more!
The weather in Monteverde is pretty cool all year round, between 65 and 75 degrees all year. A/C is fairly seen in homes since the climate is cool, unlike the beach area. There are 3 main seasons: Dry season which is from February to May with sunny and cool days and nights. Rainy season is from May through October which rains most of the day, especially in October. October is very rainy and feels colder than 65, which is a great time to visit relatives in the States or take vacation to the beaches. Then you have November to February with strong winds, can be rainy or misty and can be sunny. When you start heading down the mountain you will notice a change in climate right away where it becomes very humid and hot. You can then appreciate why we love the cool climate up here.      
Main Town of Santa Elena – banking, grocery store, etc!
In the main town of Santa Elena you can get all the services and items you need. There are 3 banks with ATM service – visa, master-card, and cashier checks are accepted at the bank teller.  There is a main church, two grocery stores, post office, many different restaurants, many souvenir shops, medical facilities and local clinic, municipality, ICE offices to hook up your internet and cell phone, electric & water, appliance stores, hardware store, gym, hairstylist, local schools and anything else you can think of!
Schooling:
If you have little ones there are local public schools, that are only given in Spanish, or there are also independent private schools. There are two independent private schools in Monteverde that are for international kids and locals, and are bilingual – Cloud Forest School and Friend's School.   
Health Insurance, Health care, and Dentist:
There is a public healthcare clinic, First Aid, and Red Cross in Santa Elena. Health care is good and affordable ($55 monthly). Children up to age 18 receive free medical treatment at the clinic. There is also a private clinic which charges $75 for a visit.  For emergencies or severe medical issues you would go to the hospital in Puntarenas, where the quality of care is comparable to that in the United States. There are several private dentist offices in town – regular cleaning is approximately $40.Alternative health care (chiropractors, massages, therapy, herbalist, etc.) is also available in town. 
Water:
The water in Monteverde is drinkable and of excellent quality. You can buy bottled water or purify it if you desired, but it's not necessary.
Airport:
The nearest airport is 2.5 hours away in San Jose (Juan Santamaria – SJO) with the newly approved highway that was built. There are two daily buses to San Jose if you don't drive or have a car and it costs about $5 per person. There is also a private transport agency if desired, Interbus.